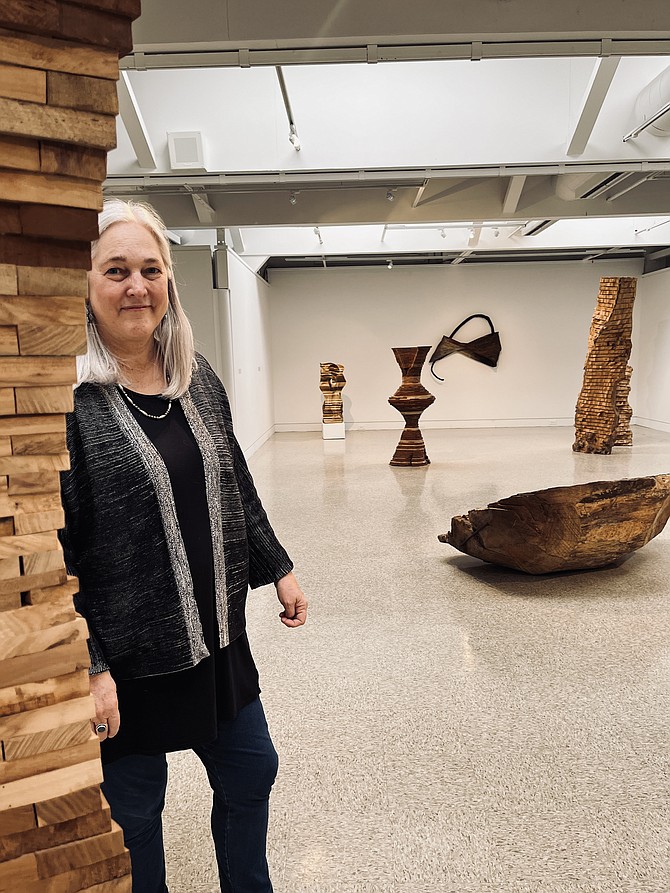 This Thursday evening's virtual artist talks at 7 p.m. by the McLean Project for the Arts (MPA)  focuses on two exhibitions. The first is "Give and Take: Building Form" in the Emerson Gallery. The show features contemporary wood sculptures by four artists, Emilie Beneš Brzezinski, Rachel Rotenberg, Foon Sham, and Norma Schwartz. A separate exhibition, "Intersectional Painting: Works by Sheila Crider," located in the Atrium Gallery, showcases multi-media three-dimensional abstract forms.
Apart from the fact that they are all wood sculptors working in abstraction, Nancy Sausser, the curator of MPA, says she put the four sculptors together to show different approaches to transforming building processes into building forms. "That is why it's called 'Give and Take: Building Form' because there are two different ways of building demonstrated. One is the additive process, and the other is the subtractive process," she said.
The gallery visitor is left to contemplate the monumental, roughly hewn sculptures by nearly 90-year-old Brzezinski, who breathes new life into fallen timbers by wielding chainsaws and axes.  
Psychoanalyst Schwartz's sensuous, swirling sculptures entice one toward their smooth surfaces. If only there were a bench where one could sit and lose oneself in a state of mindfulness.
The additive process, according to Sausser, entails joining wood laminations and building forms. Carving and removing material is what the subtractive process is all about. "Each of these artists demonstrate those two processes, sometimes both of them in their work and some leaning more towards one or the other," she said. 
According to Sausser, part of the show's idea was to help people understand how you build something like this and bring it from the kernel of the idea into reality. "I've found people don't necessarily know how to do or how to conceptualize," she said,
Sausser chose to commingle the artists' works into a harmonious whole because they can speak to each other that way.  Without that, they only speak to themselves. "I put them in a way that creates conversation between the pieces," Sausser said.
Sheila Crider's series creates three-dimensional abstract forms by combining painting, drawing, braiding, stitching and weaving. According to the online description, she developed a method for visualizing multiple intersections between material, place, tradition, race, gender, history, culture, narrative, art, painting, object and picture.
MPA's two second-floor galleries at the McLean Community Center, 1234 Ingleside Avenue, are filled with sculptural and three-dimensional abstract works. Pamela and David Danner underwrote both exhibitions. The show will be up until Feb. 19. Online exhibitions can be viewed on the MPA website.  Sales inquiries should be directed to the McLean Project for the Arts. https://mpaart.org/exhibitions/current-exhibitions/
MPA Emerson Gallery is open for viewing Tuesdays through Fridays from 1–4 p.m. and Saturdays from 10 a.m.–3 p.m.  
The Atrium Gallery is available to visitors during 
MCC hours of operation
.